Email template is the feature in Zendesk sell by which we can customize the email format in the way of HTML code or plain text. It is how to show email messages to leads, deals or deals according to team members and the company's requirements. It includes email subjects, body, signatures, etc. You can mention information with placeholders that change the data dynamically as in lead, deal and contacts. Let us see how to set up email templates.
How to create an email template?
Navigate to the following path:
Setting > Customize > Email templates.
1. To customize the pre-created template, click on the template and make changes to the selected one.
2. Click on the Add template button to add a new template.
3. A dialog box will be displayed to you named Create template.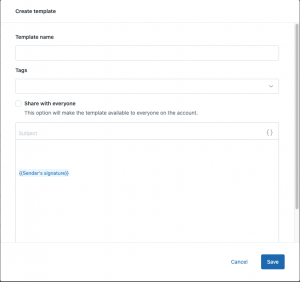 4. Give the Template name.
5. Select the Tags to identify leads, contacts, and deals templates.
6. If you want to share this template with everyone in your company, select the check box Share with everyone (everyone can see and edit this template). Otherwise, make sure that this check box should not selected.

7. Here is the main part of the email template. Give the Subject of the email template used as the email subject sent to deals, leads, and contacts by using plain text or placeholders.
8. Enter the template's body that should automatically send to leads, contacts, and deals with just one click. Here a Sender's signature (includes agent's visiting information or compliment)is already described that will be sent to leads, contacts, and deals when you select this email template.
Note: You can re-edit your Sender's signature at the time of sending email  to leads,
deals, and contacts or by navigating to the following path:
Setting > Communication channels > Emails (Signature tab).
9. Moreover, you can also attach links and media attachments and make text customization.
10. When all the setting is done, Save it.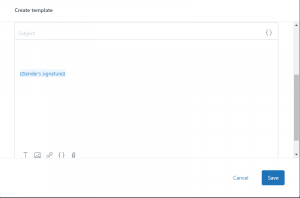 Your email template for leads, contacts, and deals has been created and is ready to execute in the section where the email is sent to leads, contacts, and deals.
For further queries regarding Email templates in Zendesk Sell, please leave a comment below.